Linux

Online Multiplayer version

last published 1 month ago

Super Mario 64 Online Multiplayer by djoslin

Make sure you have the needed installation dependencies from https://github.com/sm64pc/sm64ex/wiki/Compiling-on-Linux

Linux

Render96-v3.2 version

last published 4 weeks, 1 day ago

Updated version of Super Mario 64 with updated models and textures made to look like the original promotional materials rendered on SGI workstations.

This script builds Render96 from source, so those with Ubuntu/Debian should ensure `build-essential` and `libsdl2-dev` is installed.

This build identified a fundamental issue with the Lutris Runtime, in that the libpulse-simple and libpulse libraries are dependant on systemd. Those of us that don't have systemd need to delete the files and create symbolic links to /usr/lib64/libpulse-simple.so.0 and /usr/lib64/libpulse.so.0

Linux

Sm64-pc-jp version

last published 4 weeks, 1 day ago

Linux

Sm64pc - US version

last published 2 years, 9 months ago
libretro

Nintendo 64 version

libretro

Nintendo Wii version
Mario is super in a whole new way! Combined with the finest 3D graphics ever developed for a video game and an explosive sound track, Super Mario 64 becomes a new standard for video games. It's packed with bruising battles, daunting obstacle courses and underwater adventures. Retrieve the Power Stars from their hidden locations and confront your arch nemesis - Bowser, King of the Koopas!
* Run freely in a grassy meadow, tip-toe through a gloomy dungeon, climb to the top of a mountain or take a swim in the moat!
* Leap head first into a watery painting and soon you'll be searching for the surface in an underwater realm!
* On-the-fly, 3D rendered game play delivers the action of ruthless enemy attacks from every angle!
* Find the Caps that give Mario super powers, ponder the mysteries of the pyramid, you can even race Koopas for fabulous prizes!
* With the Nintendo 64 Controller and its analog Control Stick, Mario can crawl, kick down obstacles, swim, do reverse flips, and even stick the landing on his backwards somersault!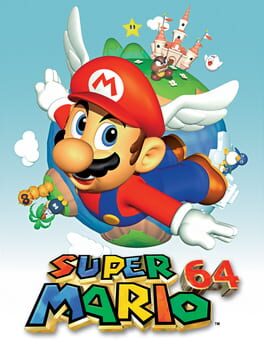 Genre:

Platform

Platform:

Nintendo 64, Nintendo Wii, Nintendo Wii U