Where in the World Is Carmen Sandiego?
released in 1985
mame

Apple //e version

Rating: ❔ UNKNOWN

mame

Apple IIGS version

Rating: ❔ UNKNOWN

libretro

Sega Genesis / Mega Drive version

Rating: ❔ UNKNOWN

libretro

Sega Master System version

Rating: ❔ UNKNOWN

libretro

Super Nintendo version

Rating: ❔ UNKNOWN
IT'S A DARK DAY IN NEW YORK CITY!
The metropolis awakens to find the Statue of Liberty's torch gone... stolen! This could only be the work of Carmen Sandiego's gang - that notorious band of thieves that specializes in the theft of priceless national treasures. The citizens are outraged, the Mayor's up in arms... and you've been assigned to the case!
THE GREAT INTERNATIONAL CHASE.
At the Acme Detective Agency, your Crime Computer gives you the facts, just the facts. You hurry to the scene of the crime and, with a little investigation, you learn that the thief has been spotted heading for the airport. You're off on a whirlwind international chase through the great capitals of the world! London, Rome, Moscow, Kathmandu... the thief always seems to be one step ahead of you.
THROW THE BOOK AT 'EM!
In each city, you'll see a well-known landmark or monument (IF it hasn't been stolen yet!). You'll be briefed on the local geography and culture. And, as you explore the city, you'll unearth clues to the crook's identity and where he or she has fled. Some clues you'll understand right away. Others will take a little research. Lucky for you, you have your trusty copy of The World Almanac and Book of Facts - the best information source any international crimebuster could ask for. When in doubt, look in the book... and all will become clear.
WHO DO YOU BUST?
Use your Police Dossier to sort through the clues, then plug your hunches into your Crime Computer to help you guess which of Carmen's cohorts did the deed. It could be Dazzle Annie Nonker, who runs the toughest yogurt bar this side of Suez. Or Nick Brunch, evil ex-Private Eye, Ear, Nose and Throat. Or even Carmen herself, quadruple agent for so many countries even she's not sure which one she's working for.
When you finally catch up with the thief, you'd better be ready with the right arrest warrant. Because if you make your move and you've got the wrong suspect, you'll be pulled off the case, pronto! If you get it right, you're on your way to a promotion and a chance to solve new and tougher cases in a new and different round-the-world chase.
So grab your passport and get ready to move... you've got a plane to catch!
WHERE IN THE WORLD IS CARMEN SANDIEGO? by Dano Bigham
* Menu-driven game play provides quick action
* Players are introduced to world geography in an exciting game situation
* Game play combines best elements of graphic adventures, trivia games, mysteries and arcade animation
* Friends or family can play together, helping the Detective decipher clues by looking up facts in the World Almanac, one of the world's most comprehensive reference books
* 10 possible suspects, 30 cities, nearly 1,000 clues... a different game every time you play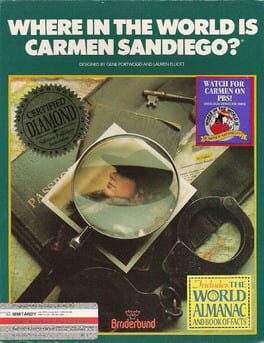 Genre:

Educational

Platform:

Amiga, Amstrad CPC, Apple //e, Apple II, Apple IIGS, Atari ST, Commodore 64, Commodore C64/128, Mac, MS-DOS, Sega Genesis / Mega Drive, Sega Master System, Super Nintendo, TRS-80 Color Computer, Turbografx-16/PC Engine CD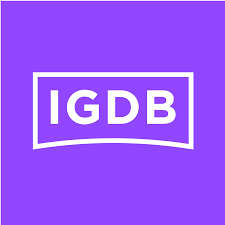 igdb

steam

protondb

steamdb

isthereanydeal
7 users have this game