Lands of Lore: The Throne of Chaos
released in 1993
DOSBox

GOG version

last published 4 years, 2 months ago

Uses the windows GOG installer and runs through Dosbox.

The installer rewrites the dosboxLOL1_single.conf file to change a \ into a / so that Dosbox can mount the CD image of the game.

ScummVM

GOG 1+2 version

last published 2 years, 10 months ago

ScummVM

GOG.com version

last published 1 year, 11 months ago

Use the Windows installer to extract the game data. By default it uses the English version.
Make sure you have connected your GOG account in Lutris and that you own this game.
The Dark Army is on the move again, led by the evil sorceress Scotia. Her goal is obvious: to destroy Gladstone Keep and its ruler King Richard. Scotia herself has recently become more powerful after acquiring "the Mask" from the Urban Mines, gaining the ability to shape-shift. She is virtually unstoppable and able to infiltrate Gladstone Keep, poisoning King Richard. If it were not for the intervention of Sorceress Dawn, the monarch would surely be dead. In order to find a cure for the King's illness, a band of heroes must set out on an adventure, and keep themselves alive from the Dark Army forces.
Lands of Lore: Throne of Chaos is a real-time dungeon-crawling role-playing game viewed from a first-person perspective. Players begin by choosing one of the four available protagonists: the Dracoid Ak'shel (high magic power), the Huline Kieran (high speed), and two humans: Michael (high strength) and Conrad (balanced character). Each has his weaknesses and strengths, but all abilities in the game can be eventually upgraded.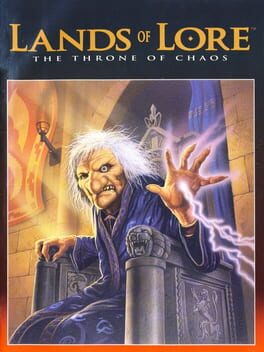 Genre:

Adventure, Exploration, RPG

Platform:

FM Towns, MS-DOS, NEC PC-6000 Series, Windows