ScummVM

CD classic edition version

last published 12 months ago

any "Full Throttle" CD classic edition for ScummVM.

- You will need FT CD only one time during install.

ScummVM

MS-DOS version

last published 2 years, 6 months ago

ScummVM

ScummVM - Demo version

last published 7 years ago

ScummVM

ScummVM from archive version

last published 8 years, 2 months ago
One minute you're on the road, riding. Not a care in the world. Then some guy in a suit comes along, says he's got a deal for you and your gang. But when you come to, you've got a lump on your head, the law on your back, and a feeling in your gut that the road you're on is about to get lot rougher...
BEAT-UP. BUSTED. MAD. Ben's been double-crossed before. But this time they messed with his gang, they trashed his bike, and they're about to come back for more.
CHAIN SAWS. TYRE IRONS. SEMI TRUCKS. Everything's coming after Ben at once. Trouble's riding his back so tight it makes the leather squeak. He's got to out-fight it, out-smart it, and out-run it if he wants to survive.
SUITS. COPS. MINIVANS. The society that cast him out long ago wants him back--Dead or Alive. A faceless legal system wants Ben for murder. A greedy executive wants him for money. A mysterious woman wants him for revenge.
WHAT THEY'RE ALL GONNA GET IS UP TO YOU.
BLOW YOUR MIND with butt-kicking graphics, brutal puzzles, and a head-on collision of action and adventure!
BLOW YOUR SPEAKERS with movie-quality sound and a full digital score featuring the GONE JACKALS - an authentic hard-hammerin' biker band!
BLOW YOUR MONEY on another game, or kick-start your computer and go--
FULL THROTTLE!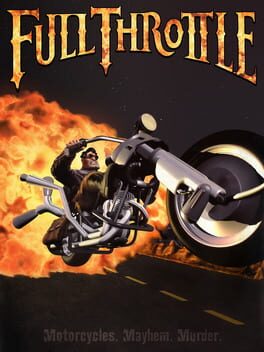 Genre:

Adventure, Point-and-click

Platform:

Linux, Mac, Windows