DOSBox

Dosbox + GOG version

last published 2 years, 11 months ago

This is the dosbox version that requires the GOG windows installer.

The game runs fine but without sound. In order to make the sound work you need to manually run install.exe from the game's directory inside dosbox and select the soundblaster/adlib soundcard for the music and effects. After saving the setup the sound will work fine as well.

To run INSTALL.EXE:
I - Configure --> Game Options --> Main File --> Select 'dosboxBAK_settings.conf'
II - Run the game and you'll start the Setup
III - Choose Music --> Soundblaster /AdLib Card (or compatibles)
IV - Accept these choices and save configuration
V - In Lutris, Configure --> Game Options --> Main File --> Select 'dosboxBAK_single.conf'
VI - Start the game

For better quality MIDI audio perform the same steps as above. But instead for Music select 'General MIDI'.
Then you need to install fluid-soundfont-gm and fluidsynth. For Mint 19:
sudo apt install -y fluid-soundfont-gm fluidsynth
Open terminal and run the command (needs to be run each time you want to play):
fluidsynth -l -s -i -aalsa -o audio.alsa.device=default /usr/share/sounds/sf2/FluidR3_GM.sf2
Then start the game.
Make sure you have connected your GOG account in Lutris and that you own this game.
Midkemia – a realm of enchantment and ancient magic where elves, dwarves and man once battled an unimaginable evil across rifts in time and space. The legends tell of a boy named Pug who would become Master Magician. His friend, Tomas, would wield the unearthly armor of the Valheru and command the armies of Elvandar to fight the final titanic battle at Sethanon. In Betrayal at Krondor experience an all-new tale in the Riftwar legacy as you travel the world of Ramar.
* It's a Whole World, Not a Hole in the Ground - Betrayal at Krondor takes you out of the dungeon and into a rich fantasy universe, filled with bustling towns, sinister swamps, snow-capped mountains, mysterious forests, dark caverns, and... yes... even some dungeons.
* And It's Filled with Characters, not Cut-outs - Meet an incredible cast of well-rounded characters, each with his or her own abilities, approach, and agenda!
* Even Your Enemies Think - No more mindless combat encounters. Every enemy you take on is a thinking, scheming adversary.
* Explore an Epic Instead of a Map - Unravel a compelling tale in a world where time passes, plans are laid, and the fate of an entire kingdom will be determined by your wits... or the cunning of your enemies.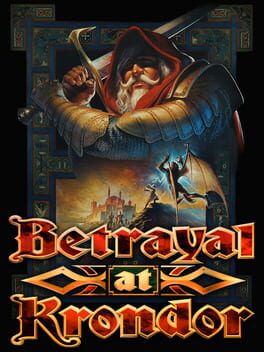 Genre:

RPG

Platform:

MS-DOS