Amazon: Guardians of Eden
released in 1992
DOSBox

DOS version

last published 2 years, 11 months ago

ScummVM

MS-DOS version

last published 2 years, 2 months ago
Make sure you have connected your GOG account in Lutris and that you own this game.
Amazon sets a new standard for interactive cinema adventure games and Super VGA makes it possible ... You'll be amazed with the graphics quality of AMAZON in VGA, but you simply won't believe the clarity in Super VGA! The smaller, tighter images offer 4 times the resolution giving each image a photographic quality.
AMAZON features a full soundtrack and digitized speaking characters offering a level of lifelike realism you could only dream of before!
Treat yourself to an incredible journey of adventure. Treat yourself to AMAZON!
DESKTOP DRAMA Journey back in time to the year 1957 on an expedition to the dark heart of the Amazon Basin. A desperate, crazed message sends you on a perilous search through a land where legends come to life, danger hides behind every corner, and incredible treasures wait to be discovered.
Patterned after those campy, exciting serials such as Flash Gordon, The Lost City, and Rocketman, AMAZON brings you heart stopping drama and fast paced action!
AMAZON can be played both "Standard" VGA, or "Super" VGA mode. You can toggle between either mode at any time during the game. In Super VGA mode, the screen is bordered by 16 chapter summary icons. Just click on any exposed icon to see an animated summary of that chapter. Never loose your place in the game!
In Super VGA mode, the Inventory Screen is always displayed showing all the items at your disposal giving you quick access in the middle of fast-paced action.
Multiple windows give you a more comprehensive view of the game and each chapter sequence as well as the ability to toggle back to previous scenes for information you may have missed earlier.
Frustrated with adventure games? In the past you may have found yourself stuck with either paying for a hint book or calling a toll number. Not with AMAZON! It comes with an informative Player's Guide and features a convenienet pop-up Online Help window containing over 600 hints which can be used at any point in the game.
You've got the best Hardware ... Why settle for less in software? AMAZON features a full musical score that supports Adlib, Sound Blaster Pro and other sound cards, full motion graphics and synchronized speech. Cutting edge Super VGA graphics, easy and advanced online hints coupled with in-depth characterizations and 14 exciting episodes makes AMAZON a game you won't want to miss!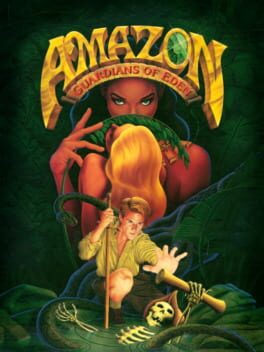 Genre:

Adventure

Platform:

Linux, Mac, MS-DOS, Windows